I know you're all dying to here the scoop about my wedding.
It's going to get philosophical for a moment, then it's going to come right back around to cake and dresses and flowers. I promise.
I did plan on having a big wedding with 200 guests. Giant church, giant reception hall. Cocktail hour and sushi with performances by circus poodles. My parents would have to take out a loan to pay for the elephant that I will ride down the aisle upon. Seriously, though, there are all of these expectations people have for weddings. There have to be favors and a million meal courses and if there isn't cake, then you get arrested.
Frankly, it's all too much planning for me. I don't care about centerpieces and what color the table cloths are. I just want a new last name.
I decided in May that I wanted to "elope," in a way, so I called Curtis to see what he thought about getting married in June-ish. He took that well. His parents agreed, and then mine did as well, and that's how the four week wedding began.
My dress was off the rack and on sale at David's Bridal. I bought straps to attach (which Curtis's mother did), and my bridesmaids and I made the veil. My aunt and uncle graciously agreed to host the wedding at their lovely house in Cleves, Ohio, and my uncle finished up his license so he could officiate.
Curtis wore his tux from prom. Which he bought at a thrift store. I bet you never would have known!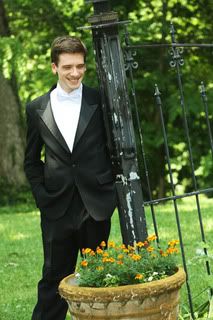 The rest of the wedding planning was phone calls and crafts. It's surprising how open certain businesses are when you say you have a wedding, even if it's only four weeks away. Businesses love to charge people for weddings.
But anyway, we got the catering and chair/table rentals in order, as well as the guest list. I regret not making really adorable invitations to mail to people, but we didn't have time. So we did evites, and everything worked out!
My maid of honor and I did the centerpieces. I bought bird cages at Target (because I like birds) and we had to go to Walmart at midnight to buy black spray paint about two days before the wedding. It was one of those kinds of projects.
I think, overall, the best thing about having a wedding is that friends and family are more willing than I could ever imagine to help with just about everything. It's easy to get caught up in the swath of tasks that have to happen and really freak out–but the day of the wedding, even with a 70% chance of severe thunderstorms, everything was perfect.