After I went to Chicago over Spring Break, I went home for the last half of my 10-day break.  I was planning on spending my time just chilling out on my couch, reading, hanging out with my family and friends, and crafting.  Basically…it was fabulous….and oh so productive.  Check out my creations…
I found this shirt's tutorial, and fell in love with the vertical ruffles, so I had to do it.  I bought two $5 t-shirts at Old Navy, and made one into the ruffles on the shirt.  So much fun…and the navy and white are perfect for being school spirited for the Sweet Sixteen this week!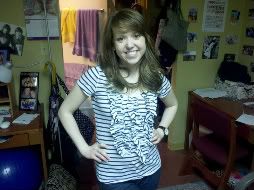 I found this scarf's tutorial…and since it was pleated ruffles…I knew that I needed to make it ASAP.  But then I had to find the time to go to a fabric store…and to go home to my sewing machine…which took awhile.  It is a little bit bigger than I wanted, so I might continue to work on it later, or do another one…because I love the idea that much.  And I love that it actually worked…and I was able to do it. 
Again, found the tutorial…and loved it.  And while I was looking for fabric at JoAnn's….I ran across this plaid….and loved it too.  So I created my new favorite scarf…and it was super easy. 
And last but not least…here is a sweater I made over Christmas Break that I already posted about…but I didn't get a picture of it actually on until now.  The picture of it laying on the table looked funny….but it doesn't look that funny once you put it on….(please excuse the bags under my eyes…and the intense color of the photo….its been a long week and my phone wasn't loving the lighting in my room.)
So that is everything that I kept myself busy with over break…crafting wise.  I also read Black Heels to Tractor Wheels….The Pioneer Woman's new book…and I loved it.  I couldn't put it down….and I left it at home for my mom to read…that is how good it was.  But other than all of that and trying to catch up with everyone from home…that is all that I had time for…but it made for an amazing break!  Now I am back at Butler and back in the swing of things….and wishing that I had done more over break.  So I am going to go be productive with my life…Happy Wednesday!