If you haven't been following my blog for the last few months….you probably haven't noticed my spurts of creativity….when I craft my life away.  I love being able to just pour my heart into hot gluing, sewing, and painting things, and then having something to show for it when it is all over.  Because of the huge time commitment that crafting requires, I usually only have the opportunity to do it when I am at home over a break, but this week I switched it up, and I crafted at school.  Now let me preface that it wasn't that I just had tons of free time this week….but instead I had an actual purpose for my crafting, which was a very nice change from my usual situation.
My county's Community Foundation was planning a silent auction, and a good friend of mine (who just happened to be one of my dance coaches in high school) asked me to make some jewelry like she had seen me post on Facebook (or here).  Not that I don't like that necklace anymore….but it did take forever (10 hours)….and it made my fingertips raw from working so much with a needle.  So I set off to Ucreate crafts….to find some new tutorials for jewelry.  Along the way I got distracted and found about 28 other websites or tutorials that I fell in love with….including the tutorial for this…..
It is a wreath made out of recycled book pages…..or just a book about the Vietnam War that I got at Goodwill for $1.  It also took forever…between tearing out the pages, cutting them up, gluing them into the rose shape and then finally gluing them onto the wreath…but it was a more fun process of making this that it was with the last necklace.  I am currently in the process of trying to think of a way to make something that looks like this, but that is easier to make…..let me know if you have any ideas….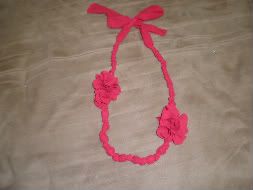 This is the necklace that I eventually found online, and just fell in love with so I had to make it.  It is made of a sheer material, and I made it by making a casing (kind of like a tube) of the fabric, sliding in beads, making knots around the beads, and then sewing on the little pretty flower-like things.  Much simpler, and a much more time-conscious project for me.
So that is an update on my crafting life….and although I probably won't be able to craft anything until after finals are over, I think I will be able to survive after making that wreath.  Let me know what you think of everything that I made, and have an awesome day!