I only discussed the format for the modern, jazz, and ballet technique dance finals last post. We have some sort of final in each class we take. This year, I also had pointe, classical partnering, and contemporary pas.
My pointe class meets twice a week, on Tuesday and Thursdays. (That doesn't sound like a lot of pointe, I know, but you wear your shoes for rehearsals, partnering, variations, sometimes ballet technique…) During finals weeks, pointe class meets at its normal times. Since we have two teachers, we have two finals. We don't memorize these finals like we do for ballet and modern — basically it is an ordinary class, except the professors take notes in a sinister, wide-ruled, spiral notebook.
The classical partnering class meets on Wednesdays, and we had our final the week before the week of Nutcracker runthroughs, which was the week before Thanksgiving Break, which is the week before the show. In the dance department, November and December are dictated by the performance schedule.
Our pas final is usually half of a pas de deux we've been practicing for the last two or three class periods. I've done the first and second halves of Diana and Acteon, the first part of Don Q (up until 3 min in the video below), and the first half of The Sleeping Beauty wedding pas. We go in groups of two pairs, and we're graded on our performances.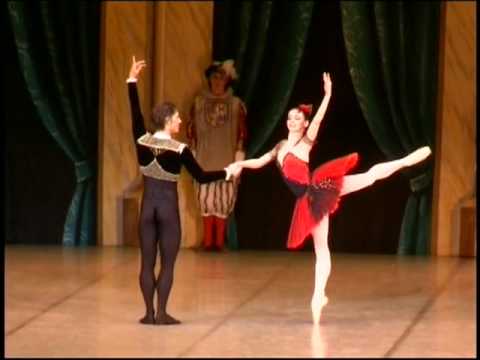 For contemporary partnering, we learned six short pas from Nacho Duato's Na Floresta. The last two classes, the professor assigned each couple one pas at random and taped us performing the entire chunk, couple by couple. I love Duato's choreography. It feels so organic; it's detailed, yet free, restrained at the same time it gives itself in abandon. This sounds super cheesy, but it's the best way I can describe it. I'm so excited we are performing his Por Vos Muero during this year's Midwinter Dance Festival.
And those were some of my dance finals.