Joffrey Ballet Chicago performed to a refreshingly full house at Clowes Memorial Hall this past Saturday night. The review here does not quite do the show justice. Dance majors taking Dance History II had to write a review of the performance, and I feel like the conversations we had about the pieces on the program more closely examined the program than the review I found online.
Before the performance, however, the artistic director gave a master class on Friday afternoon. Since I am in the Level 4 ballet class this semester, I was lucky enough to take class from Mr. Ashley Wheater. His class was challenging but fun. I was particularly taken with his porte de bras–all very logical, without requiring a conscious effort to remember odd pathways.
He stressed stability stemming from the supporting leg's rotation. We believed him: His turnout and technique showed though he demonstrated in street clothes and tennis shoes. Graceful, articulate, and clever, Mr. Wheater left a good impression.
The company presented the romantic Jerome Robbins ballet In the Night, Balanchine's Tarentella, Gerald Arpino's Round of Angels, and Edwaard Liang's Age of Innocence. We dancers disagreed (some of us bitterly) over several aspects of the last piece. Art wars. As long as people still get upset over differing viewpoints of choreography, I feel like the arts are in good shape. You can see an exceprt from Liang's piece below: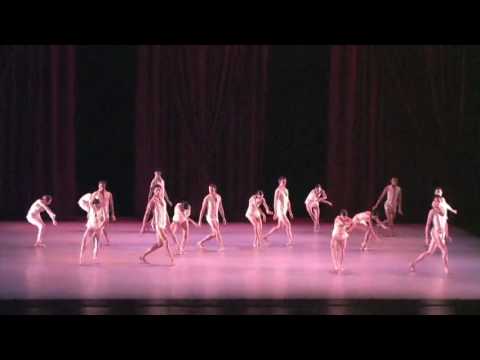 Did you see the show? Did you like the last piece? Maybe if I talk to some of my friends, they would allow me to quote part of their reviews. I'd like to lay out the different viewpoints side by side.