Looking at my post list, I see it's been five days since I've released a new blog! Sorry about that. This past week has been super busy. Here are some of my excuses:
I saw the Paul Taylor Dance Company quite some time ago, so perhaps it does not quite count as an excuse. I harbored mixed feelings about the program, but I adored "Esplanade," one of great masterworks of the twentieth century. The video below is from the beginning of the last, crazy section. I also enjoyed seeing the solo the Butler dance department's modern teacher Susan McGuire originated in "Dust."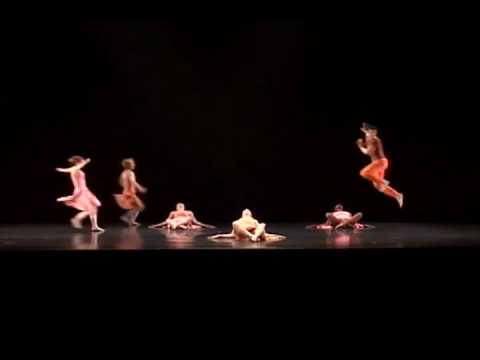 Dancer Thanksgiving potluck. My roommate and I brought apple-cranberry bread. And when I say "my roommate and I," I mean I provided some of the ingredients and got out the bread pan. Then I watched my dancer roommate and my troublesome roommate make it together. Moral support, ya know?
Nutcracker Studio Dress rehearsal on Saturday! Studio Dress is when the department first runs the entire production in order, in costume, in the largest studio. After Studio Dress comes a week of production run-throughs in that same studio (Studio 310). Then comes Thanksgiving Break. Then comes production week in the theater. The performances are fast approaching.
Attending the Jazz Combos performance in the campus Starbucks to see my two jazz-musician friends. One plays the French horn; the other, the bass. Coolness. Would anyone like a post on French horn majors or jazz minors?
Writing the introduction and outline to my dance history paper on Irish dancing
Writing and writing and writing my Irish Lit paper. I finally finished the rough draft last night–before 11 pm! My friend gave me a CD and said I couldn't listen to it until I was finished with the paper. How's that for motivation? To be completely honest, I am rather disappointed with the result, since my thesis is pretty convoluted and not incredibly dependent on my readings of Translations. Oh well. It's done for now, and I can fix it over Thanksgiving Break. I turned the paper in earlier today–all 21.5 pages!
Mastering the art of the Rubik's cube. I will defeat you! (And I have, just not without the aid of a cheat sheet once I get to the final layer. I confuse the algorithms for reorienting the corners with those for reorienting the sides: R2 B2, R F R', B2 R F' R is for corners and R2 U', F B', R2, B F', U' R2 is for the sides. Maybe if I type it enough times I'll remember this. This is clearly the top priority right now.)
I have a massive physics test on Thursday. Like, with enough surface area such that one can't ignore air resistance massive. Everyone studying for the past week massive. A friend's friend telling me this test made her abandon her dream of becoming an engineer massive. (Said friend is now a sixth grade math teacher.) Now my Irish Lit paper is done for the next few days, I can turn all my attention to studying for this test.

Oh yeah. I have a bunch of reading for Irish Lit, too. Whoops.