Last year, I went to the Indianapolis City Ballet's Gala performance and saw the likes of Joaquin De Luz, Tiler Peck, Sarah Lane, Alicia Amatriain, Jason Reilly, Gennadi Saveliev, Miquel Quinones, Anastasia and Denis Matvienko, David Hallberg, and Julie Kent. This year, we (with the help of the dance fraternity Sigma Rho Delta) did it again!
The program was impressive, and show even more so, perhaps because I was sitting in the second row, smack-dab in the center of the theater. The one bad part of this year's gala experience? I could not see any of the dancers' feet. In a line-up like this, I know the feet would have be gorgeous.
Line-up: Elisa Carrillo Cabrera (fierce), Marcelo Gomes, Mikhail Kaniskin, Julie Kent (no comment), Vitali Krauchenka, Misa Kuranaga, Natalia Osipova (!!! Yah!!! So beautiful), Miguel Quinones, Daniil Simkin, Damian Smith, Yuan Yuan Tan (ethereal), Ivan Vasiliev (extremely energetic, probably eats his meat raw and still attached to living goats), and Veronika Verterich.
Because I couldn't see the feet, I focused on the face and upper body. Normally, I'm a feet-and-leg person. When a dancer walks onstage, I automatically check out the lower-limb line. This time, however, I was close enough to hear Julie Kent breathing, and I was blown away by the artistry in the smallest of gestures. They were all so personable! When the performers walked downstage for their bows, it seemed like they were looking directly at me.
This was a good thing, since I have officially Fallen In Love. Daniil Simkin has my heart, now and forever. I'm following him on Twitter. When he bowed after his second piece–the charmingly eccentric Les Bourgeious–I should have stood to clap. He would have seen me and fallen instantly in love, and we'd currently be eloping in Argentina. Or in Paris, since that's where he's currently performing at the time I'm writing this.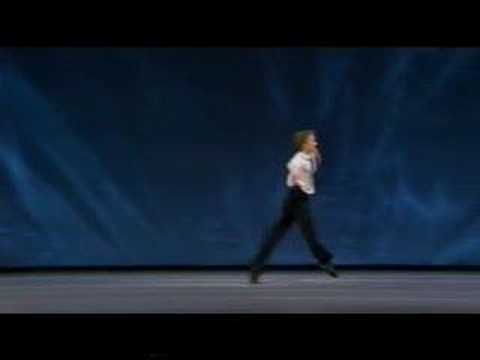 Alas, I stayed in my seat. Nevertheless, we were close enough to see each little smirk as he danced to (and as) Jacques Brel. I could hear him coughing (it's part of the choreography). I could see him mouthing the words of the song. It was awesome. His first piece, the pas de deux from Le Corsaire, was breathtaking. Even more impressive than all his jumps–he must have swallowed some helium before his variation or something–and his articulation of porte de bras was his face. Just before he began a turn (or turns, I should say, since he spun like a top), he would let loose this huge grin as he pliéed, as if he were saying, "Look what I can do, haha!"
I'm in love.