If you have seen my previous blogs I love going to concerts, especially ones that I don't have to pay for. Since I didn't talk much about the concerts I went to this summer I thought I would talk about that and also the free concert Butler provided with Smash Mouth and Chiddy Bang!
This summer I didn't go to many concerts because I had to work a lot, or I would forget to take off of work. I did manage to go to Dave Matthews Band and Young the Giant. With the Dave Matthews Band I got really lucky! My best friend's parents or my adopted parents basically gave me tickets to see Dave on Friday night! It was really awesome, because of how close we were to the stage, and on top of that I really like DMB! I was able to go with my sister and her friends and then brought along my friend Sara. We had a lot of fun!
Front row at Dave Matthews Band
Although I didn't get free tickets to Young the Giant, I got to be in the front. They played at The Old National Center. At this venue there is no seating, so if you shimmy your way to the front, which you usually can, you get front row! Young the Giant was amazing. They sound as good live as they do on their CD's, which I feel like you don't hear that much anymore. Blogger Bekah wrote about them in her latest blog, so you can get to know more about them!
Front row at Young the Giant!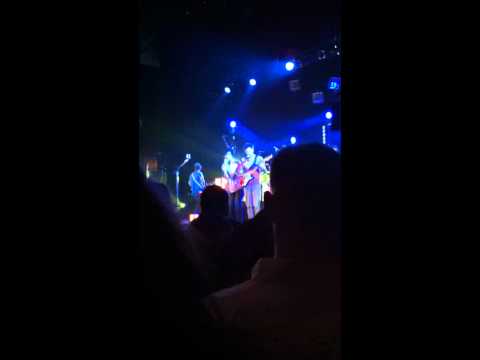 A couple of weeks ago I went to Butlerpalooza, which was free for Butler students. Smash Mouth and Chiddy Bang came. It was a lot of fun. Smash Mouth was great because it was all songs I remember from when I was younger! Chiddy Bang was entertaining and got the crowd involved a lot with their songs. I didn't know that many Chiddy Bang songs, but for the ones I did know it was really good!
Smash Mouth at Butler
Chiddy Bang at Butler!
Sorry if my videos are shaky, you hear me or others singing annoyingly, or you just realize that I should never take a video again in my life… I understand. On a positive note my concert tour isn't over yet for the year. I won free tickets to Dayglow, which is a huge concert/rage where DJ's play different songs and then throw paint out into the crowd. I'm extremely excited! Also I'm trying to go to a few concerts in Chicago, but right now money is an issue, so we'll see how that goes.