I love COLLEGE. Yes, it does take work, and I am pretty sure I have never studied this much in my life. My parents were not exactly thrilled to hear that statement. I'm so thrilled that I picked Butler. To get everyone up to speed with freshmen life so far, I definitely need to share with you Welcome Week.
Welcome Week is possibly the best week at Butler, then again I've only been here for 2 weeks, so that may not be saying much. If there's anything I remember from Welcome Week it is definitely my SOG's (Student Orientation Guides), my crazy times spent with my dorm unit, and all the crazy activities planned for freshmen. We had a rave, casino night, the quest, comedian, drive in movies, a hypnotist, a bonfire and Play Fair (such an awesome icebreaker experience). This was a Play Fair at Butler from a couple years ago, but still gives the same experience!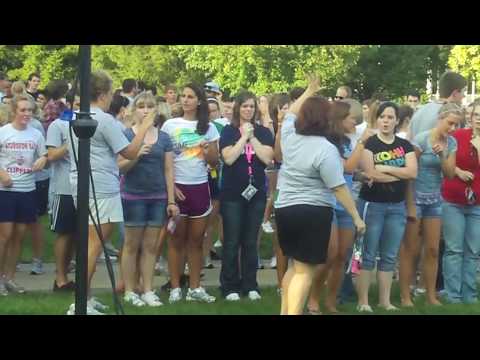 Also about my SOG's they are pretty awesome. Fellow bloggers Steph, and also Andrew were SOG's! S.O.G stands for Student Orientation Guide. Usually you get paired up with an upperclassmen whose in your major to help you out for your freshmen year and specifically for Welcome Week. For me being exploratory, I just got two random upperclassmen, but they were awesome! They are hilarious and funny. They helped me out a lot for my first couple days here!
One last thing,  my unit is awesome! My RA, Steph (not the other blogger), is really cool, and plans a lot of stuff for us to get together. We have done a lot of things together, but a fun event was cheering on one of the girl's on our floor at her soccer game! We all got painted up and went to support her!
Don't you see now why I love college?