I was a huge New Year's scrooge this year and I have no excuse for my sorry self. Once the weather started going south with predictions of snow and things I was all, "Nope! That's it! If I wasn't making plans before, I'm definitely not making any now!"
So we had a couple friends over and we stayed in. It was nice! I swear! No crazy people or anything. Sometimes it's just nice to dodge the crowds and skip the noise. Plus Curtis had to get up crazy early on New Year's Day, so what are you gonna do?
Anyway, I hope everyone had fun with whatever plans you had! I'm glad to have a fresh start this year. No resolutions, really, just trying to keep up with the life goals I'm always pursuing: living well, writing well, and trying to graduate.
And looking at cute animals all the time.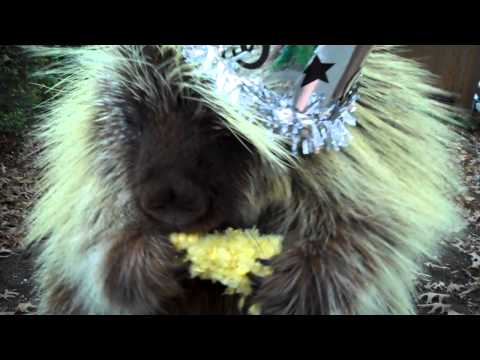 I like to set resolutions that I know I'll keep, and that's a guarantee right there.
I'll leave you not with a precious porcupine eating corn and wearing a party hat but with a great Pinterest craft for the new year! (It's called a "Memory Jar," so you just write things down that happen throughout the year, and then on New Year's Eve at the end of the year you can go through and read all about what you did! You can also throw ticket stubs and the like in there too!)