Happy Monday everyone! Remember last year when that video of the two adorable little girls clanking cups and singing "Call Your Girlfriend" went viral? Well, over the weekend one of my roommates and I stumbled upon a slew of Lennon and Maisy's videos and I am now obsessed.
Lennon and Maisy Stella are real life sisters who got their musical start on YouTube. I want to say the girls are 13 and nine-years-old, respectively, based on the ages listed on one of their videos posted a year ago. I am not sure though, so don't quote me on that. After gaining over 21 million views on their cover of a Robyn/Erato version of "Call Your Girlfriend," the sisters now star on ABC's Nashville and have sang at the CMA Music Fest, as well as the Grand Ole Opry. And if their incredible talent wasn't enough, they are both beautiful!
They harmonize so, so well together, and they both play instruments, and they both sing so sweetly. I just want to be their babysitter or something. I could listen to them sing literally all day long. My personal favorite is their cover of "Headlock" by Imogean Heap. Give these sisters a little listen. They are superb!
"Call Your Girlfriend"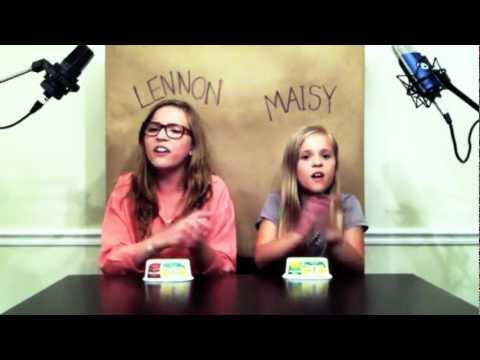 "Ho Hey"
"Headlock"