Happy Thursday to all! We have about one month left of the semester, and you know what that means- it's time for advising appointments and end of the year shenanigans! I blogged last semester about how stressful it was to figure out my schedule, but I wasn't nearly as stressed this time around.
Although my advising appointment didn't give me too much worry, all of my art projects most certainly have. I have mentioned many a time before that I am an Art + Design major. I absolutely, positively love being an art major, but there is quite a lot happening in the art department these days, so I am wigging out a bit.
The biggest thing I have to do is create a body of work.
For the body of work, the class has to make 5-10 pieces that are related through a concept, and we have to have them done to present at Art Now. Initially, I was going to go to Value World and buy items from the song "Thrift Shop" and create my own interpretation of the song through photographs, but I wasn't totally feeling it. My new idea was inspired by a video of strangers sitting in a ball pit and asking each other questions so they wouldn't be strangers when they left the pit (the video is below!).
As you know from reading my blog, I am all about becoming friends with strangers. I am really curious about people's relationships and how they come to meet and grow in friendship, so I am going to create spaces and instances that, like the ball pit, encourage strangers to interact. I am going to document these interactions through photos and writing, so it's different from most other projects I have done. This type of art is called relational art because it is about human relationships, rather than a tangible piece of artwork. I'm kind of nervous that no one will want to participate, but you better believe I'm going to try!!
In other kind of artsy-related news, I got an Instagram, so you should follow me!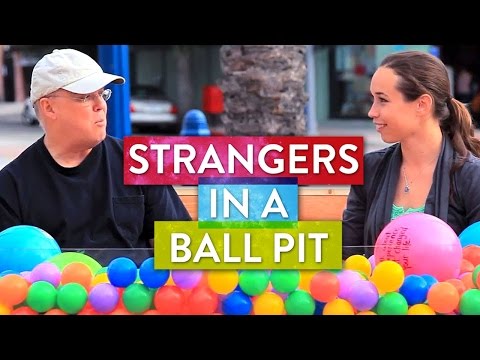 Have a great end to the week and thanks for reading