It's great having a basketball team that performs very well (on most years) and gets opportunities to travel to Maui for an invitational tournament. My friend on the cheer-leading squad  has been looking forward to it the whole semester, and couldn't stop talking about it over the last few days.
What's even more fantastic is having a team perform exceptionally during the tournament! I had caught some of the game on the radio as I drove home, but I wasn't able to catch the last few minutes. As soon as I got home, my facebook newsfeed was on fire with comments about the game. And what did most of the comments have in common? This clip, courtesy of Rotnie Clark.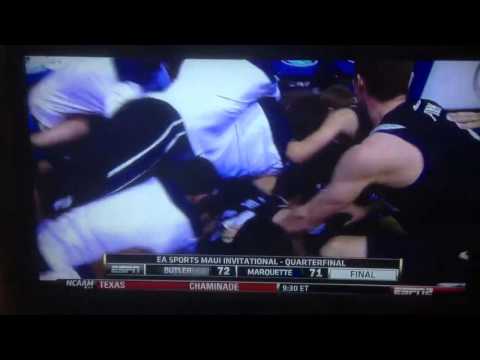 Some may look at this as a redemption of Hayward's missed last minute three point shot in the final moments of the March Madness tournament. I imagine this is how our team is preparing for another such event, should the need arise for a buzzer-beating three pointer. And judging by the results, we'll be prepared next time. March Madness, here we come.